Londoners certainly aren't shy of a viral food trend. Last year the city went crazy for Bubblewrap's waffle craze, the rise of poke bowls led to the establishment of a myriad of different poke stores selling hundreds of different flavours, and who could forget the matcha soft serves that practically defined one summer?
If you happen to be looking to uncover the next craze, see below for some of the brilliant new dishes from London's freshest openings that we think will be sure to take the city by storm: from a monkfish katsu sando to a perfect pastry to a crispy onion flower.
The sandwich: Monkfish katsu sando at Pacific London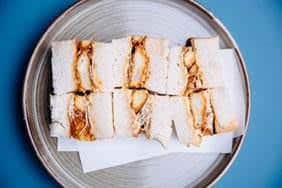 Revolutionising the katsu sando scene is Pacific's Executive Chef, Shawn Presland. Instead of beef or pork, he's layered crisp monkfish katsu between shredded white cabbage and soft white bread and topped it all with lashings of mustard mayo and rich Bulldog sauce. The result? A fresh, hearty sandwich that's already making waves despite Pacific only opening a week ago. Move quickly to the Heddon Street pop-up – Pacific will only be occupying the site for the next four months.
The seafood: beef tartare oysters at Daffodil Mulligan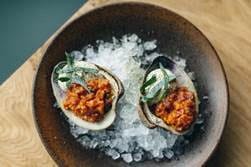 Chef Richard Corrigan's third London restaurant and bar, Daffodil Mulligan has been open less than a month, but there's already a storm already whirling about his stunning dishes – particularly the beef tartare oysters. These bitesize beauties are a showstopping mixture of beef tartare and cherry clam and oyster cream served inside clam shells and over ice.
The side: onion flower at The Betterment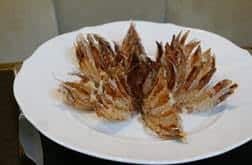 It's not often that you'd head to a restaurant purely for the sides, but it's a side dish that's the main attraction at Jason Atherton's recently opened The Betterment in Mayfair. The award-winning dish is a beautifully presented crispy onion flower served with a chive emulsion.
The arepa: Elua Arepa from Sabroso!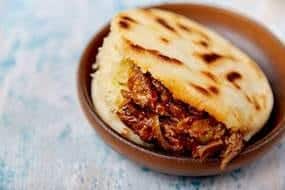 Venezuelan casual concept Sabroso! has just opened in Westfield London and drawing in diners far and wide is its fresh take on traditional Venezuelan Elua Arepa. The disc shaped cornbread is stuffed with braised spiced beef, Cheddar cheese, Venezuelan black beans, ripe plantains, roasted peppers, and topped with crème fraiche or avocado – and guests can customise it as they like with a range of sauces and garnishes. What's more, it's completely gluten free.
The tart: lobster thermidor tart at The Grill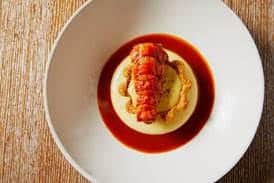 Lobster is the ultimate indulgent Christmas treat, and it's being given a fresh incarnation at the esteemed Grill restaurant at The Dorchester. The Grill lobster thermidor tart has quickly become a classic: a cheddar cheese tartlet packed with mushrooms, onion, tender lobster meat and a beautifully indulgent thermidor sauce, all topped with a whole roasted lobster tail and finished tableside with a lobster bisque. The mastermind behind the fun new creation is the Grill's youngest ever head chef, 26-year-old Tom Booton.
The vegan dish: Aubergine Goan Curry at Volta do Mar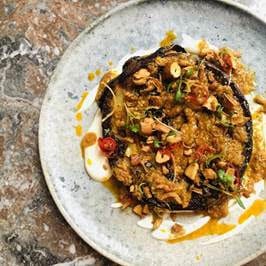 Portuguese cuisine is usually known for its seafood, but Volta do Mar are also serving a variety of delicious plant-based dishes; over 50% of their menu is vegetarian or vegan. A standout is their aubergine Goan curry: a round aubergine grilled with Goan spices and then filled with a mild coconut and tamarind curry, topped with cashew yoghurt and a sprinkling of cashew crumble.
The treat: mango and coconut pavlova at EllaMia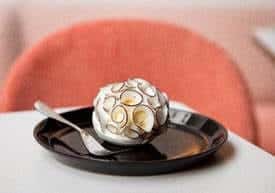 You wouldn't think there'd be many reasons to flock to a hotel for a delicious pastry, but brand-new coffee shop EllaMia at St Martins Lane will give you plenty – from the killer pink interiors to the speciality flavoured lattes to this gorgeous mango and coconut pavlova. Created by talented pastry chef Ludovic Mesple, a crisp meringue is topped with a light and airy mango mousse and finished with thin shavings of fresh coconut.