SABROSO! the new casual dining concept from restaurateurs Gabriel and Jose-Luis Gonzalez will launch at Westfield London on 21st October. Spanish for 'tasty', SABROSO! will offer high-quality yet affordable 'Latin Soul Food' inspired by the cuisine from their home country, Venezuela, to Londoners and tourists alike. SABROSO! will be the duo's first fast-casual dining venture following their launch of Peruvian restaurant LIMA London in Fitzrovia in 2012 and Floral by LIMA in 2014 which brought a contemporary twist to traditional Peruvian cuisine. 
The menu at SABROSO! will provide guests with a range of authentic dishes that offer exceptional value for money. The restaurant's signature dish will be the arepa (£6.95) – a round cornbread, cooked on the griddle until crispy on the outside, then stuffed with a variety of vibrant and delicious fillings to suit every palate. These fillings will include roasted shredded chicken, braised beef, pulled pork or tofu with onion and tomato sofrito. With the opportunity to fully customise your gluten free arepa, guests can add toppings such as Venezuelan black beans, ripe plantains, roasted peppers, crème fraiche or avocado plus a range of sauces and garnishes packed full of flavour. There will also be a mini arepa available to children (£4). 
The arepa has seen a rise in popularity – particularly in America, as well as many European cities such as Madrid and Seville, which are seeing 'areperas' pop up more and more frequently. Now, London is starting to see this celebrated street food enter the mainstream, with 'arepera'-style stalls emerging in markets across the city. Gabriel and Jose-Luis plan to put their twist on the arepa, bringing it to a wider audience and making it London's next star dish.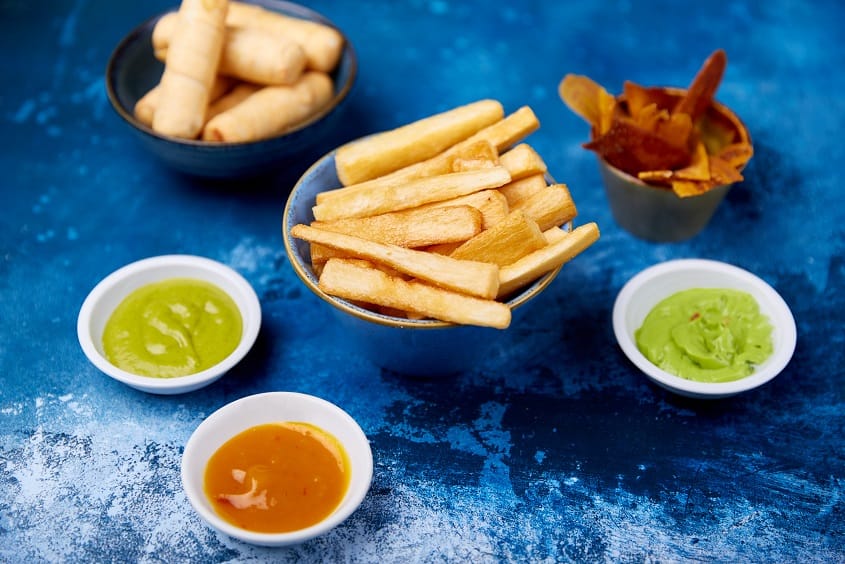 SABROSO!'s build-your-own ceviche bowls, its take on the popular poké bowl, will bring vivacity and freshness to the menu. Using their extensive experience with ceviche, these bowls will feature cured salmon, tuna or aubergine combined with fresh homemade toppings. Guests will be able to choose between a rice or quinoa base, before selecting from a wide range of fillings and garnishes. The signature bowl will be the 'Vuelve a la Vida' (£9) meaning 'Come Back to Life' in Spanish, and will include salmon, mixed salad, rice, plantain chips, crispy shallots, mango, soya beans, ponzu and yuzu sauce and spicy mayo. The ceviche bowls will be an exciting option for the more health-conscious, providing diners with the opportunity to customise their meal at every step. 
Side dishes at SABROSO! will include Tequeños: crispy cheese pastries served with homemade mango chutney (£3.95) and Yuca Chips (£3.95) or Beef Empanadas (£3.95) both served with SABROSO! sauce. For dessert, there are a variety of delectable treats such as Tres Leches (£4.95) an airy sponge cake soaked in three types of milk and Alfajores (£4.95), bite-sized dulce de leche shortbreads. Fresh tropical juices (£3.50) including 'Papelon con limon', a sugarcane lemonade and 'Cocada', a traditional 
coconut smoothie drunk in beach towns across Venezuela, (all £3.50) will also be on offer alongside a range of soft drinks, beers and spirits. 
Founder, Gabriel, commented on his next launch: "Jose-Luis and I can't wait to bring the fantastic flavours of our home country to Westfield London. We're so proud of all we've achieved with LIMA London and Floral by LIMA, bringing little known Peruvian ingredients to London for the first time. We hope to inspire the same love for SABROSO! and finally provide guests with a taste of 'Latin Soul Food'. For those who are tired with the same old burritos and poké bowls, SABROSO! will finally bring some fresh new options to the casual dining market. We can't wait to see the flavours of our home country embraced by the city we love." 
Keith Mabbett, Director of Leasing for Westfield UK & Italy said: "Already famous for their hugely popular Peruvian outposts in London, we are delighted that Gabriel and Jose-Luis Gonzalez have chosen Westfield London to launch their first Venezuelan concept this autumn. The centre, which is Europe's largest, has transformed the food experience for shoppers with many UK firsts and newest concepts capitalising on the 31 million footfall and £1 billion sales the centre generates each year. We have no doubt that this newest addition to the new Balcony Court Café will be a great success." 
SABROSO! will open its first restaurant at the eagerly anticipated Balcony Court Café at Westfield London on the 21st October, bringing a taste of Venezuela to West London.