Parisian comfort food at Frenchie Covent Garden
Frenchie Covent Garden is 'modern French brasserie', nestled in the heart of London, this Parisian gem offers warmth in the middle of January. Chef patron Gregory Marchand has created a decedent baked Vacherin Mont d'Or & Toast (£30), this heart-warming dish is 500 grams of comforting cheese, slowly baked in the oven with a drop of Vin Jaune, it doesn't get much better than that!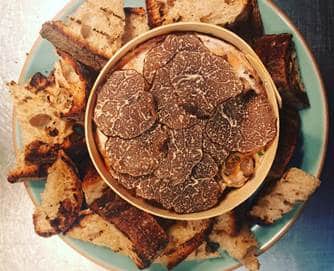 A hint of Argentine comfort at Gaucho
Looking for a place to go with a little extra warm in the cold month of January, look no further. Gaucho's 12 restaurants, each holding a sense of Argentine warmth, are the perfect place to visit this winter. The menu, with dishes like The Gaucho burger, with bacon, onion, and Guindilla chilli, and the wild mushroom tagliatelle, with eyrngii and enoki mushrooms, wild mushroom dust, torrontes cream, tarragon and raw yolk, are both perfect candidates for a January comfort food feast.
Comfort dine, drink and bowl at All Star Lanes
All Star Lanes truly do have it all! This unique boutique bowling destination, where you can dine, drink, and bowl not only has private karaoke booths, but bottomless brunches, great food and fantastic cocktails. This is January's perfect comfort food destination, with dishes like Nashville chicken – outhern fried chicken thighs, buffalo sauce, crispy shallots and sweet potato fries, and prime rib on the bone, with Bedfordshire prime rib, garlic green beans, bourbon infused peppercorn sauce, chilli and lime butter.

A warming winter pudding at Paul Ainsworth at No.6
An absolute classic, this Bread and butter with pedro ximenez and roast vanilla ice cream is the only treat you'll need to get through these cold January nights. Inspired by his time with Gary Rhodes, Paul Ainsworth's modern take on this retro dessert is currently on the menu at Paul Ainsworth at No.6, his Michelin-starred restaurant in the heart of Padstow, Cornwall.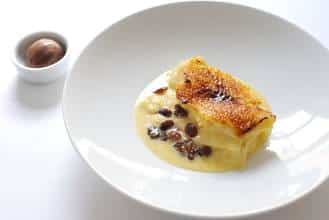 Warm and satisfying desserts at Hai Cenato, Victoria
A delicious dessert of contrasts – cold and smooth ice cream nestled between gratifyingly warm brioche, this Salted caramel gelato and brioche sandwich from Hai Cenato is the perfect dessert to complete any January feast. A signature dish from Hai Cenato, owned by Jason Atherton and Paul Hood, the Salted caramel gelato and warn brioche sandwich is a generous portion and great for cosying up and sharing after one of the restaurant's signature pizzas.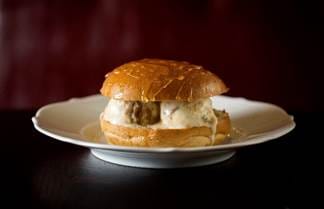 Sunday Feasting at Meraki
It doesn't get much more comforting than with Meraki's indulgent Sunday Feasts. Celebrating the Mediterranean, family-style cooking of Chef Patron Athinagoras's childhood, the menu is inspired by Sundays at his father's thriving taverna in Athens. Designed to share, guests can choose from dishes such as Meraki's legendary 1.2kg Celebration leg of lamb (£95), or Grilled spatchcock chicken served with mustard thyme sauce (£35). Comforting starters include favourites such as the Rosti Greek Style made with Crunchy potatoes, sunny side-up eggs, truffle and Cretan butter, not to mention Meraki's signature desserts including the Bougatsa, a traditional crispy filo pie filled with semolina custard, milk chocolate caramel.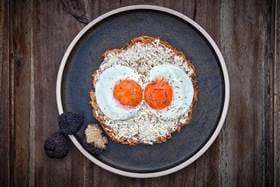 Comforting curry at Little Kolkata
For some warmth and spice, Little Kolkata offers delicious Bengali cuisine in the heart of Covent Garden. Co-founders Prabir Chattopadhyay and Biswajit Deb Das have centred the whole concept around comfort cravings, with the restaurant first starting out as a series of supper clubs serving the food they were missing from their respective Calcutta and Bangladeshi homes. Guests can expect familiar spices and ingredients with the likes of Kalighater Kosha Mangsho, a curry of tender goat meat slow cooked in a rich flavoursome sauce, and Murshidabadi Chicken Moghlai, a whole baby chicken cooked in a cashew nut, saffron and rose water.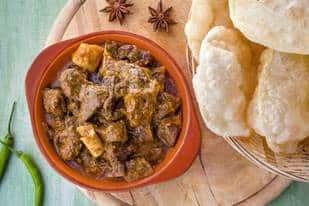 Opulent comfort at L'oscar's The Baptist Bar & Grill
Chef Tony Fleming's new project, The Baptist Bar & Grill in the gorgeous Jacques Garcia designed L'oscar hotel, offers comfort at its most luxurious. Sat beneath a grade II listed grand octagonal chapel, guests can indulge in dishes such as Red mullet soup with saffron and Gruyere cheese; Duck and shitake ravioli with creamed cabbage and smoked red wine; Curried Lamb Shepherd's Pie, mango, palak bhaji; Potato Purée, truffle and chive.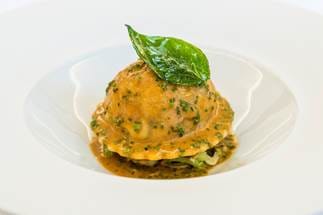 Slow-cooked lamb at Tom's Kitchen
Could anything be more comforting than pulling apart the tender meat of a 7 hour slow-cooked lamb shoulder? A lonstanding option on the menu at Tom's Kitchen, this generous sharing dish is a firm favourite of chef and founder Tom Aikens, and comes served with mashed potato and balsamic onions. If that isn't enough comfort for one meal, the sides menu also includes Mac & Cheese, a comfort-food classic with the option of adding truffle shavings for a sprinkle of extra decadence.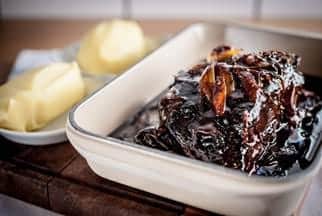 Truffle Chicken Kiev at The Game Bird
The Game Bird's critically acclaimed Chicken Kiev is the very height of indulgence. Oozing with luxurious truffle butter and served alongside velvety pomme purée, this dish is comfort food at its most sophisticated. Under the direction of Ben Tish The Game Bird is renowned for offering classic British dishes, executed with great style, and served in a relaxed yet elegant setting.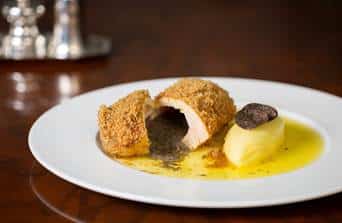 Savoury Doughnuts at Fiume 
For an instant hit of Italian indulgence, the Umbrian Truffle, Grana Padano Doughnut from Francesco Mazzei's riverside restaurant Fiume ticks all the boxes. A soft doughnut ring coated in gooey 24-month aged Grana Padano Riserva and salted zabaglione, topped with shavings of Umbrian black truffle and crispy pan-fried breadcrumbs. Fiume is situated in the stunning new Battersea Power
Station redevelopment with a menu that celebrates the wholesome, hearty recipes of Francesco's homeland.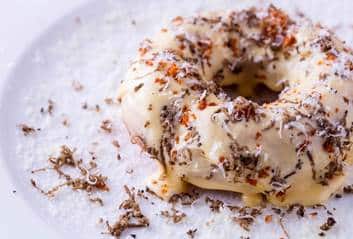 Comforting classics at The Goring
In the luxurious setting of the five-star Goring Hotel, The Dining Room offers Michelin-starred dining in an elegant setting. Every day, an additional British favourite is offered as a special on the lunch menu. Comforting classics include Fish Pie on Mondays served with English peas and fennel, Steak and Kidney Pudding on Wednesdays, and on Fridays Lincolnshire suckling pig, apple, black pudding. Each special is available on the set 3-course lunch menu, priced at £52.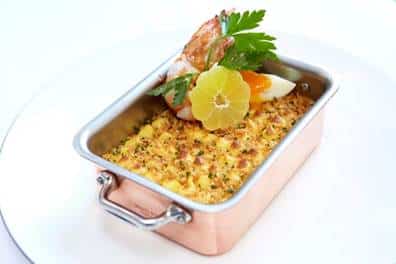 Brunch at M
Brunch-goers at M Victoria will be spoilt for choice when it comes to comforting dishes to soothe the soul and satisfy even the hungriest of cravings. The Dr Burger is a popular choice through the colder months, topped with liquid cheese, pickles and bacon jam, it has been carefully crafted to banish the winter blues and serve as the perfect antidote to the Veganuary hype. Other indulgent items include Buttermilk fried chicken with waffles, maple butter & maple syrup and Firecracker scrambled eggs with chorizo, coriander and lobster. Brunch is served on Saturdays from 11am- 4pm.