We delighted to share a selection of our favourite Christmas cocktails in London this festive season. These are the best tipples out there to guarantee everyone embraces the Christmas spirit.
Turkish Delight-inspired Cocktails from Narnia at Blind Spot, St Martins Lane
Blind Spot at St Martins Lane is serving cocktails taking inspiration from the magical land of Narnia this festive season. Lit by a glowing lamppost, the bar is offering a menu of Turkish Delight-inspired cocktails including Edmund's Elixir(Bombay Sapphire gin, Crème de Peche liqueur, rosé wine, hibiscus flower and rose water), paired with a Rose Turkish Delight, and The Queen's Petrification (Grey Goose Vodka, Cointreau, sugar and soda water), paired with a Lemon Turkish Delight. Priced at two cocktails for £15, guests can enjoy the serves while relaxing on chairs laden with faux fur throws.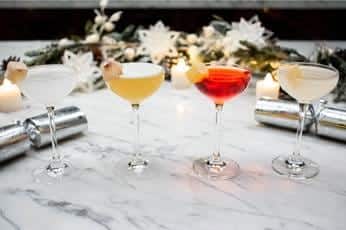 Cocktails from the Magical Chocolate Factory with Willy Wonka at Sanderson
The famed Long Bar at Sanderson has been adorned with overflowing vintage sweet jars and psychedelic swirls this Christmas, taking inspiration from Willy Wonka and his chocolate factory. The bar is serving a bespoke cocktail menu too, including serves of Wonka's Martini, a mix of Grey Goose vodka, Eager apple juice, green apple and lemon and Glop Glop, a concoction of Mozart dry chocolate vodka, Briottet orange liqueur and Lillet Blanc vermouth. The drinks are designed to surprise and entice, with unique flavours contrary to what the colours of the drinks suggest.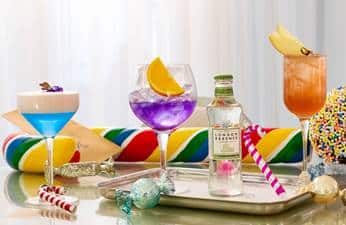 Moët Vintage Champagne Cocktails at Angler
Angler is celebrating this Christmas in collaboration with Moët Vintage Champagne. The restaurant's alfresco terrace has been dressed up for a White Christmas, featuring an all-white Christmas tree alongside a dusting of twinkling lights throughout. Moët-mixed cocktails on the menu include the Belle Epoque (Moët & Chandon Brut Rosé accompanied by Chambord, Chartreuse and rose and lavender syrup) and French Kiss (Moët & Chandon Brut mixed with Hennessy VS, apricot brandy liqueur, Angostura bitters and blackcurrant jam), both priced at £16.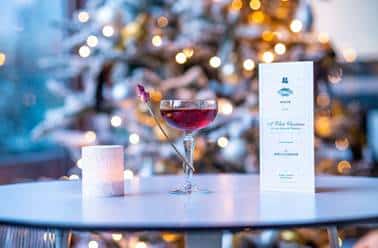 Winter warmers on the Toymaker's Terrace at German Gymnasium
German Gymnasium has transformed its terrace into a magical toymaker's workshop in partnership with über-cool gin brand, Monkey 47 this winter. Complete with warming cocktails, hearty German fare and a festive ambience, the menu includes flavoursome serves such as hot Mulled Monkey Magic with Monkey 47, Pinot Noir, house chinato, cinnamon, oranges and vanilla (£13), and Doll's House Midnight Delight, mixing Monkey 47, Riesling, lemon, pineapple, Jagermeister Manifest, ground cinnamon and nutmeg (£13). Surrounded by cosy wooden huts, winter foliage and twinkling fairy lights, this is a picturesque winter world for enjoying festive cocktails.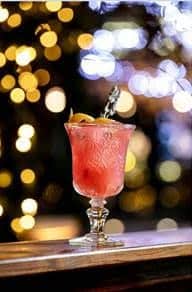 Sophisticated Martinis at Anthracite Lounge
For a sophisticated option this Christmas, guests can go to Anthracite Martini Lounge to enjoy an expertly mixed drink from head bartender Balazs Nagy. Alongside favourite martini cocktails such as the Espresso and Breakfast Martini, bespoke Anthracite twists include serves such as The Gin Martinez of Herno Old Tom, Antica Formula, Boker's Bitters, Maraschino, liqueur, orange twist, maraschino cherries (£14). Situated in the heart of King's Cross, this is the ideal destination for a celebratory and luxurious Christmas tipple.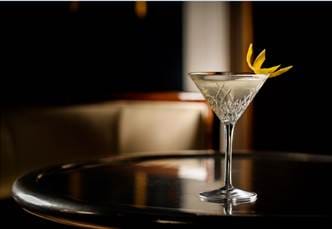 Creative Christmas Concoctions at GENUINE Liquorette
New York-inspired bar GENUINE Liquorette has created a bespoke Christmas menu filled with inspirational serves. The Christmas Snowball of Fords Gin, Weetabix, Advocaat, Cacao Blanc Nutmeg (£10) shows off Bar Manager Elliot Davies' ability to combine alternative flavours to create something delicious. Situated in Fitzrovia, this is the perfect destination for a Christmas cocktail with a twist.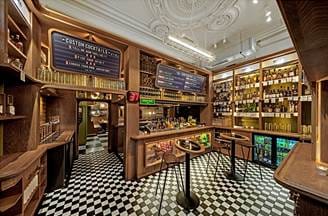 A Parisian Christmas Cocktail at Blanchette Brick Lane
For some Parisian chic in the run up to Christmas, Blanchette are serving a special Spiced Pear Martini. Made with a home-made spiced pear syrup, East London Gin, amaretto, lemon, egg white and garnished with star anise, this is a perfect winter warmer.