If it feels like you just can't meet Mr or Mrs Right – it could be because you live in one of the country's 'No Man's (or No Woman's) Lands', home to proportionately the fewest single people.
That's according to new research from over-50s dating app Lumen, which compiled ONS population and relationship status data for 348 local authorities in England and Wales, including all 32 London boroughs and the City of London, to uncover where it's hardest to find love based on the proportion of available singles in those areas.
For men, it's hardest to find love in the City of London, where there are 25% more single men than women (100 single women for every 125 single men). Newham, also in London, comes second (115 single men for every 100 women) and third is Cambridge (112 per 100). Tower Hamlets and Southampton comprise the rest of the top five areas with the fewest single women.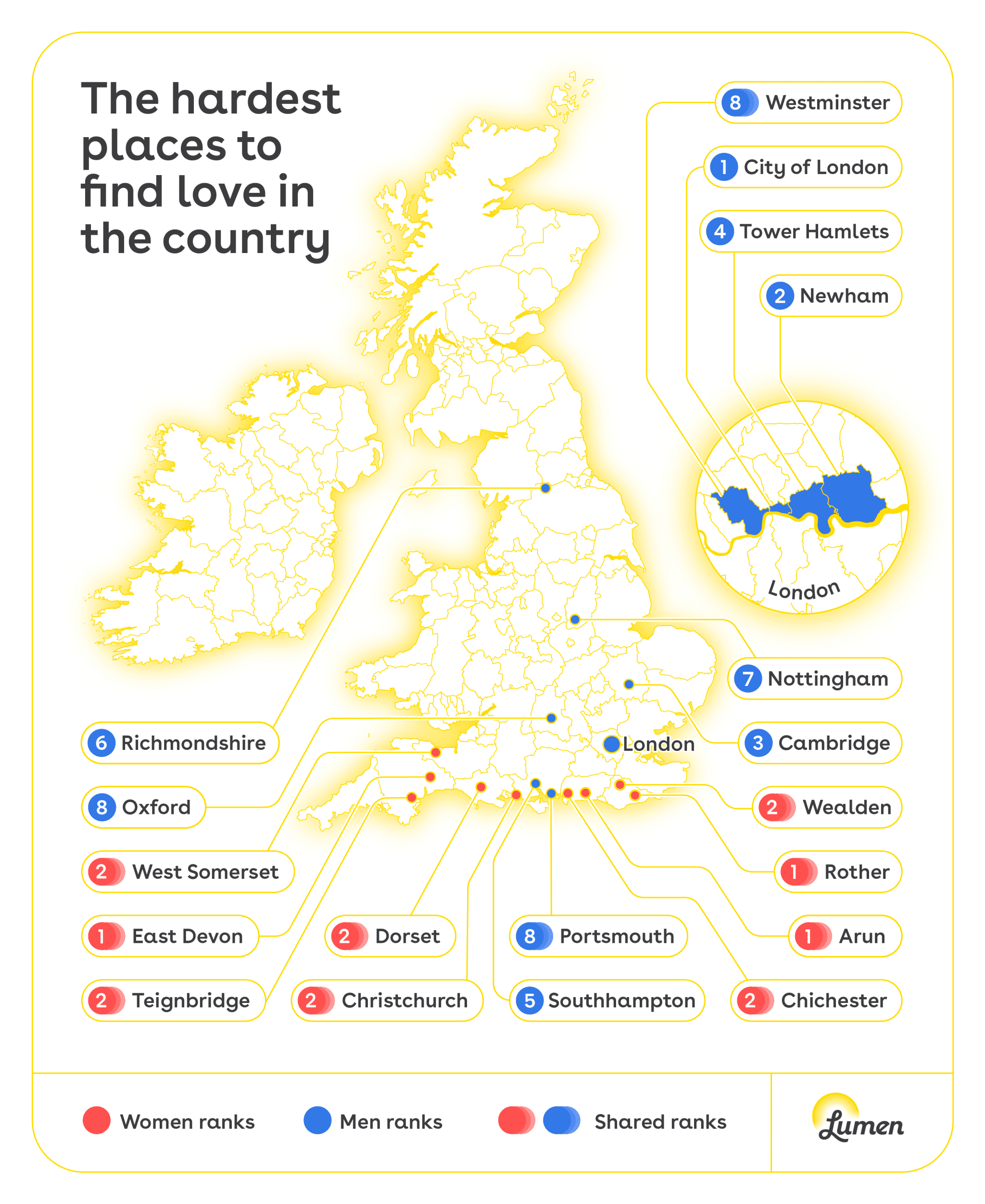 As for where women have it most difficult, Arun (West Sussex), Rother (East Sussex) and East Devon are tied in first place for the hardest place to find a single man, with just 70 single men for every 100 women in those areas (equating to 43% more single women than men). When looking at the Capital, women most struggle in Bromley, where there are just 73 single men per 100 single women, followed by Bexley, Havering and Richmond upon Thames (all 76 per 100).
It would seem that women generally have a lower chance of meeting a single man in the south, with all of the top 10 hardest places to find a single man in Southern England. As for men, central London can be difficult, with four areas in the bottom ten for availability of single women located in the heart of the Capital. That said, overall, the number of single women actually outnumber single men in 29 of the 32 London Boroughs. This reveals a doughnut shape, with more single men in central London, and single women outnumbering men in all the outer-London boroughs.
These differences can be partly explained by the nature of employment around the country. Within London, it's a reflection of disparities in working patterns and income between men and women, and that there are more families (including single mums) in the outer boroughs.
The research also reveals a surge in the number of singles in their 50s and 60s, up 53% since 2012. Yet that doesn't make it any easier to find love in certain areas. For single women 50-69 it's hardest to meet people in Harrow, where they outnumber the men by 64% (just 61 single men per 100 women), followed by Elmbridge (Surrey) and Merton (both 62). As for single men of the same age, it's hardest to find love on the Isles of Scilly, where they outnumber the women by 40% (140 single men per 100 single women), followed by City of London (133) and Copeland (103).